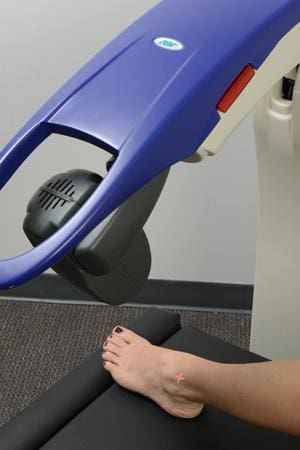 Clinical Benefits: Manage Pain. Reduce Inflammation. Speed Recovery.
Laser therapy uses light to favor and accelerate the body's natural healing processes. The laser beam is moved over the skin so that the light energy (photons) penetrates the tissue where it interacts with various molecules (chromophores) that cause different biological effects. It produces a photochemical, photothermal and photomechanical effect.
10 Benefits of MLS Laser Therapy
Anti-Inflammatory Effect
Analgesic Effect
Accelerated Tissue Repair and Cell Growth
Improved Vascular Activity
Increases Metabolic Activity
Stimulation of Trigger Points and Acupuncture Points Reduced
Fibrous Tissue Formation
Improved Nerve Function
Immunoregulation
Faster Wound Healing
MLS Laser Therapy Effectively Treats Pain Associated With:
Plantar Faciitis
Neuromas
Neuropathies
Arthritis Sports Injuries
Tendon & Ligament Injuries
Back & Joint Pain
Muscle Sprains & Strains
Tendonitis
Wounds
Post-Surgical Swelling Disc Disease
Sore Muscle and much more!

Make sure your feet always look and feel great – call Foot & Ankle Clinic of the Virginias today at 800-456-8637 to schedule your appointment. Don't forget to ask about our Medicaid and insurance payment options!